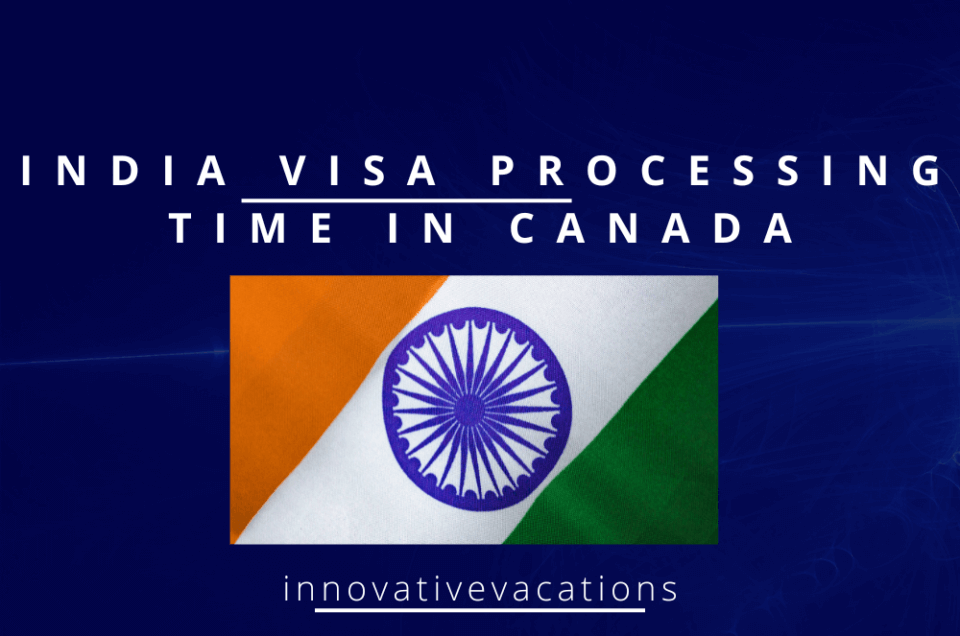 An India visa processing time in Canada can vary depending on the type of visa the Applicant applying for and the specific circumstances of the application.
Visa processing times can change over time due to various factors including changes in policies, application volumes, and external circumstances. It's recommended to visit the official website of the Indian embassy or consulate in Canada or the official Indian visa application website for the most up-to-date and accurate information on visa processing times.
APPLY E VISA FOR INDIA
Typically, visa processing times are provided in ranges, such as:
Standard Processing: This can take anywhere from a few days to several weeks, depending on the type of visa and the volume of applications being processed. usually, entry visa to India from Canada processing time is expected within 3 to 5 working days.
Expedited Processing: Some visas might offer expedited processing for an additional fee. This could significantly reduce the processing time, but it's important to check whether this option is available for the specific visa you're applying for.
E-Visa: India also offers e-visa options for citizens of certain countries, including Canada. E-visas can have shorter processing times since the application process is done online.
Regular Tourist Visa: For a regular tourist visa, the processing time might range from 1 to 4 weeks or even longer in some cases.
E Visa for India for Canadian Citizen
To apply for an e-visa to India as a Canadian citizen, you would generally need to:
Visit the official Indian government e-visa website.
Fill out the online application form with accurate and complete information.
Upload the required documents, such as a scanned passport copy and a passport-sized photograph.
Pay the applicable visa fee online.
Wait for the processing of your application. E-visa processing times are typically shorter compared to traditional visa applications, but it can still take a few days.
India visa tracking
Here are the general steps you can follow to track your Indian visa application:
Application Center Website: Visit the official website of the Indian visa application center or the specific consulate where you submitted your application. Look for a "Track Application" or "Application Status" section on the website.
Enter Details: In the application status section, you will usually need to enter details such as your application reference number, passport number, and date of birth. Make sure to enter the information accurately.
Check Status: Once you've entered the required details, you should be able to see the current status of your visa application. The status might show whether your application is under review, or approved, or if any additional documents or information are required.
Contact Information: If you face difficulties while tracking your application or have specific questions, you may find contact information (such as phone numbers or email addresses) on the website to reach out to the appropriate support team.
India E Visa for Canadian Validity
Tourist E Visa for 30 days
Tourist E visa for upto 1 years
Tourist E Visa for 5 Years
Tourist Visa for 180 Days
Business E Visa for 1 year
Business visa upto 5 Years
Conferance E Visa for 120 Days
Journalist E Visa for 180 Days
Medical Treatment Visa for 60 Days
Student Visa upto 1 Year
Work visa for India 180 Days
Employment Visa for India from Canada
Those who intend to work in India are issued an employment visa (EV). EV is also offered to those who intend to volunteer in India. The term of an Employment Visa is for the duration of the employment/volunteer work, which is normally not more than one year at a time. More information on Employment Visas can be found at http://mha1.nic.in/pdfs/ForeigD-work_visa_faq.pdf.Please read the following paragraph at this link:
The foreign national being sponsored for an Employment Visa in any field should earn more than US$ 25,000 per year. This restriction, however, will not apply to: (a) ethnic cooks, (b) language teachers (other than English language teachers) / translators, and (c) staff working for the the concerned Embassy/High Commission in India. The application for Employment Visa may be rejected by the Indian Mission/Post concerned in case the minimum annual income benchmark of US$ 25,000
APPLY E VISA FOR INDIA
Process for Applying India Visa
The online application for Visa must be completed and submitted online. The form can be filled
up and submitted online at the below link: https://indianvisaonline.gov.in
1. While filling up the Visa form please select the type of Visa correctly e.g., Entry Visa, Business
Visa, Employment visa, etc.
2. Select the correct Indian High Commission / Consulate, based on the place where you
reside in Canada and the Consular jurisdiction of the Indian High Commission / Consulate.
3. All the personal particulars/data entries of the Visa application should match with the current
Passport. In the online visa application column about 'Place of Issue' of Passport, please mention
the place / Issuing Authority from where your Passport has been issued, as printed on your
Passport.
4. After online submission of the application form, no changes can be made manually /
handwritten. In case of any error/changes, please fill out a fresh new online application
form.
5. The application form is to be signed by the visa applicant. The signature should match the
signature on the passport and other documents. In the case of a minor, both parents are
required to sign the visa application. If parents are separated, please enclose a copy of the court
order having a mention of the custody of the child.
end of blog India visa processing time Canada
Faq
Do Canadians need a visa to visit India?
Yes, Canadian citizens require a visa to visit India. Visa requirements may vary based on the purpose and duration of your visit.
What types of visas are available for Canadians traveling to India?
India offers various types of visas, including tourist visas, business visas, medical visas, and e-visas for short-term visits. The specific type of visa you need depends on your purpose of travel.
How can I apply for an Indian visa from Canada?
You can apply for an Indian visa through the Indian Visa Application Centre (IVAC) in your city or by using the online e-visa application system on the official website of the Indian government.
What is an e-visa, and how can I apply for it?
An e-visa is an electronically issued visa that is available for certain purposes of travel. Canadians can apply for an e-visa through the official Indian government website. Make sure to check the eligibility criteria and follow the application process outlined on the website.
What are the requirements for an Indian visa application?
The requirements may vary based on the type of visa you are applying for. Generally, you will need a valid passport, a visa application form, a recent passport-sized photograph, proof of travel itinerary, and the visa fee. For specific requirements, refer to the Indian government's official website or consult the nearest IVAC.