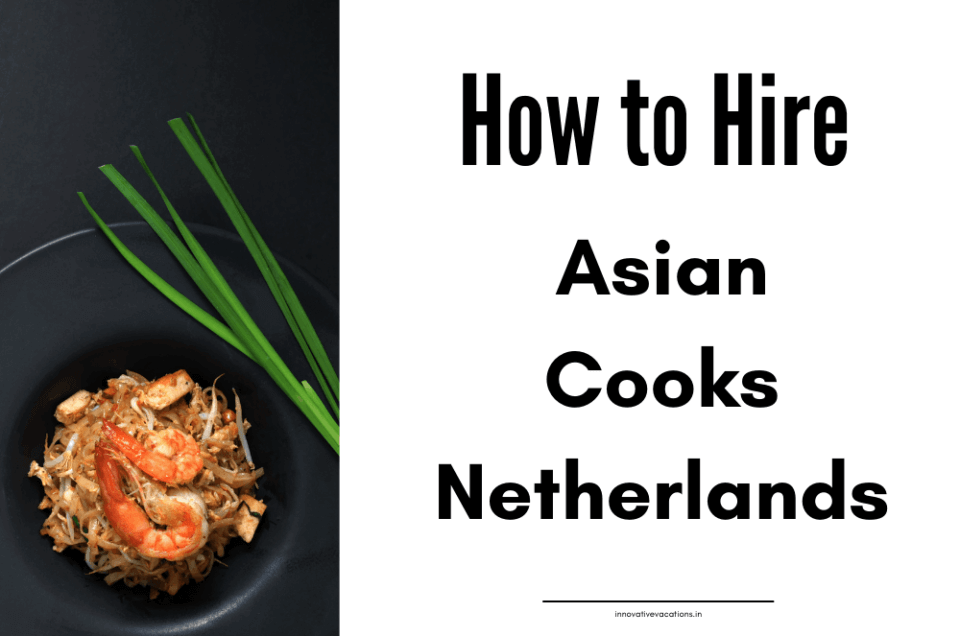 This article is about, How to Hire Asian Cooks for Netherlands This will explain The process. This is applicable to a specialized cook, sous chef/all-around cook, or a chef. The application is forwarded to the IND, where you must apply for a combined residence and work permit (GVVA). The GVVA combines a residential permit with a TWV/work permit. The application is subsequently forwarded to UWV by the IND.
Conditions to apply Work Permit
You must demonstrate that you have sought for employees in the Netherlands and Europe when applying for a work visa for a cook who is not yet in the Netherlands. You recruit employees in the Netherlands and the EU/EEA by placing advertisements on the Dutch labor market and the European labor market for atleast 3 Weeks. You must specify in your application how you searched and what the outcome of this recruitment was.
You Can Apply for Work Permit in Netherlands for Asian Cooks if you meet criteria
You have an Asian food specialist restaurant. It includes Chinese, Indian, Indonesian, Japanese, Korean, Malay, Thai, Tibetan, and Vietnamese cuisines.
Explain Why you Need a Cook for your Restaurant in Netherlands
You must explain why the cooks on levels 4 to 6 are needed in your restaurant.
A credential evaluation from 1-7-2023 must be sent to verify that the cook has the qualifications to work as a cook at level 4, 5, or 6.
You must include the cook's resume with your application, detailing his schooling and job experience.
If you want to apply for a work permit in Netherlands for Asian cook, you must also report the vacancy to the Asian Horeca Service Desk of UWV. The vacancy must be open for a least 5 weeks.
what are the Conditions for extending Work Permit?
When applying for a work visa for a cook who is already in the Netherlands and has a permit that will expire after January 1, 2022. You must demonstrate that you sought for individuals in the Netherlands and throughout Europe. You recruit employees in the Netherlands and the EU/EEA by placing advertisements on the Dutch labor market and the European labor market. You must specify in your application how you searched and what the outcome of this recruitment was.
Report a vacancy to the UWV Asian Horeca Servicedesk; the position must be open for at least three weeks.
Document Required for Residence Permit for Asian Speciality Cook
the following documents are required, in order to determine whether candidate are eligible for a residence permit:
a copy of your passport (with all pages containing relevant stamps or visas)
Copies of any certificates or diplomas you possess
If you already have one, a copy of your job contract.
Depending on your individual scenario, we may require additional documents from you.
What is the Permit Validity?
Presently, The validity of the residence permit is for a maximum period of 2 years. This permit may be renewed.
Summary How to Hire Asian Cooks For Netherlands
Understand Legal Requirements: Research the legal requirements for hiring foreign workers in the Netherlands. This will likely involve obtaining work permits and visas. Check the latest regulations and guidelines from the Dutch immigration authority (IND) or consult with legal experts.
Job Description and Requirements: Clearly define the job roles, responsibilities, and requirements for the Asian cooks you wish to hire. Specify the necessary culinary skills, experience, and qualifications.
Recruitment Strategy: Consider various recruitment strategies to find suitable candidates. This could include posting job listings on relevant job boards, using social media platforms, reaching out to culinary schools or institutions, or partnering with recruitment agencies that specialize in the hospitality industry.
Cultural Sensitivity: Keep cultural sensitivity in mind throughout the hiring process. Respect the cultural backgrounds of the candidates, and ensure that your communication and interactions are inclusive and respectful.
Interview Process: Conduct thorough interviews to assess the skills, experience, and cultural fit of the candidates. You may want to include a practical cooking test to evaluate their culinary skills.
Language Requirements: Determine the language proficiency required for the role. While English might be sufficient for communication in a multinational kitchen, knowing Dutch can be advantageous for interacting with colleagues and customers.
Work Permits and Visas: Once you've identified suitable candidates, initiate the process of obtaining work permits and visas. Work closely with legal experts to ensure all paperwork is accurate and complete.
Contract and Benefits: Draft employment contracts that outline the terms and conditions of employment, including salary, benefits, working hours, and any other relevant details. Be sure to comply with Dutch labor laws.
Housing and Integration: Assist your new hires in finding suitable housing, especially if they are relocating from abroad. Provide information and support to help them integrate into the local community.
Orientation and Training: Once your new cooks arrive, provide a comprehensive orientation about your establishment, its culture, policies, and procedures. Offer any necessary training to ensure they are well-prepared for their roles.
Cultural Exchange: Encourage a cultural exchange within your kitchen. Embracing diversity can lead to a richer culinary experience and a more harmonious work environment.
Ongoing Support: Provide ongoing support to your Asian cooks, ensuring they have access to resources and assistance whenever needed. Address any challenges they might face and foster an inclusive and welcoming work atmosphere.
End of Blog How to Hire Asian Cooks for Netherlands